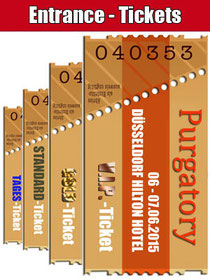 Information:
Nur noch bis zum 31.03. gibt es den Frühbucherrabatt. Möchtet ihr als beim Kauf eines Tickets sparen, sichert es euch bis zum 31.03. und spart bis zu 40 Euro
Zusätzliche Info:
Es sind nur noch 29 Gold-Tickets verfügbar!
___________
Information:
Our early bird offer for all tickets to Purgatory end March 31. So if you want to save money, make sure to buy your ticket until March 31 and save up to 40 Euro
Additional Information:
Only 29 Gold-Tickets are still available!