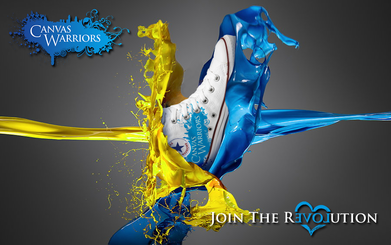 We are happy to announce that Canvas Warriors are going to be at Purgatory 2015!
Canvas Warriors London is the creative combination and teamwork of Sandira Reddy & Afshin Salehzahi.
One half of Canvas Warriors is the founder, fine artist and graphic designer, Sandira Reddy.
Born in South Africa, Sandira studied Illustration at Central St Martins College of Art and Design in London and Graphic Design at Kingston University. Having travelled extensively in the States and lived in London and in South Africa- All these different urban experiences have only enriched her talents and inspired a number of collections of her fine art.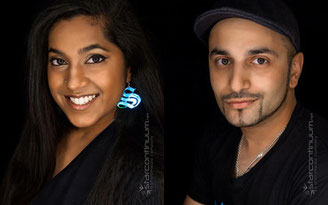 Sandira has exhibited her paintings in New York & Beverly Hills, USA, Durban, South Africa & London.The Canvas Warriors story began when Sandira would sell her handcrafted creations at artist markets and fairs.
Having a love for Converse, one day she decided to customize hers (as you do). Her version was so good that when she emailed it to a fan blog they fell in love and re-posted her story and design. The following morning she had hundreds of emails asking where one could get a Sandira custom pair!
With the help of now Husband, Afshin Salehzahi, Sandira was able to truly begin growing her company. Afshin, an Iranian-born creative, left his web content manager position at the British Museum when he saw the raw potential of Canvas Warriors. Together, Afshin and Sandira began building CW from that first fan blog post and the rest, as they say, is history.
Now, Canvas Warriors has become the go-to place for celebrities and Con-goers alike to get their original and one-of-a-kind pair of shoes, jewellery & hoodies. More importantly, they are working with the IS Foundation, The Chopra Foundation & The Sea Shepherd Conservation Society (to name a few of their causes) to make the world a better place.
Enlist now, become a Canvas Warrior, and lets save the world one shoe at a time!You can find Canvas Warriors at most Comic Cons or you can order online at www.canvaswarriors.com

See some of their great works here: