Convention-Hotel
Crowne Plaza Hotel Dusseldorf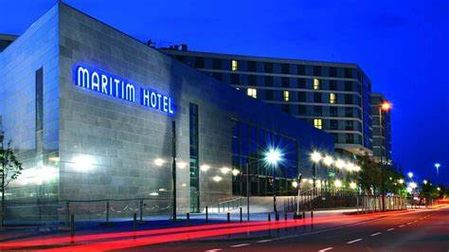 Crowne Plaza Hotel Dusseldorf
Rheinallee 1, 41460 Neuss, Germany
Telephone: +49 2131 7700
First-class hotel in Neuss with best views by the riverside
The newly renovated 4* superior hotel Crowne Plaza Düsseldorf - Neuss is located at the banks of the river Rhine, opposite North Rhine-Westfalia's capital city. Enjoy the breathtaking view across Düsseldorf's skyline from your hotel window. Despite the hotel's peaceful surroundings, you will be able to reach the city centre within only a few minutes by car. On-site parking is available at the hotel (fees apply).
First class service from Wi-Fi to wellness
The Crowne Plaza Hotel Düsseldorf - Neuss caters to both leisure tourists' and business travellers' needs. 246 hotel rooms and suites - many of which are barrier-free - with free Wi-Fi and air-conditioning ensure a carefree stay, as well as the on-site spa and restaurant. Our guests love the hotel's idyllic location and good transport connection as well as the modern features and our top-notch service. Our on-site RiverSpa provides a healthy and relaxing encironment. The wellness and fitness area is equipped with fitness machines, a sauna, a swimming pool and  a sanarium.
Newly renovated hotel rooms overlooking the river Rhine
The Crowne Plaza Düsseldorf - Neuss has a total of 246 hotel rooms and suites, many of which are barrier-free. The rooms offer first class comfort - air conditioning, a safe and free Wi-Fi (up to 5 mbit/s) are part of the standard fitting, as well as a flat screen TV, cable TV and radio channels, a coffee and tea set and a flat iron with ironing board. The room size is between 24 m² and 32 m². Each of our rooms has either a double bed or a twin bed and a marble bathroom, equipped with a bath tub, make-up mirror, hairdryer and toiletries. Do not hesitate to make use of our wake-up calls, laundry service and rooms service. All of our hotel guests have free access to the sauna, swimming pool and fitness equipment at the RiverSpa.
For attendees we are offering special hotel room rates.
If you want to book your room online, you can book via telephone +492131 771883 or email to emailus.neu02@gchhotelgroup.com with the booking Code "Purgatory". 
Room prices:
Single Room: 89,00 Euro/night
Double Room: 109,00 Euro/night
Parking is available for 10 Euro per day for convention attendees. 
Prices include international breakfast buffet. You can cancel your room until May 24, 2021 without any costs.